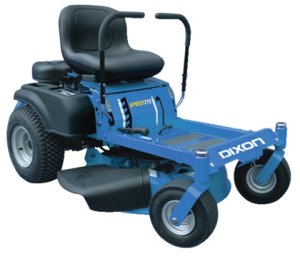 Few companies are as respected in the world of commercial and home landscaping as Dixon, and that's generally because Dixon has a strong focus on creating products that are faster, more efficient, and easier to maintain than the competition. For homeowners with relatively small lawns and the need for a compact mower, this commitment can best be seen in the company's Dixon Speed ZTR 30 riding mower. The equipment is highly compact, with a 30-inch cutting deck that is among the smallest on the market. Even so, that small cutting deck is paired with a solid transmission, a powerful engine, and plenty of other features that can make mowing overall a bit easier and less fatiguing for today's homeowners.
With great features, a strong specification list, and a few great accessories, the Speed ZTR line of Dixon riding mowers is a strong contender for homeowners in need of new riding mower equipment that will last well into the future.
Great Features for a Compact, Residential Riding Mower
Perhaps the most notable feature of the Speed ZTR 30 is the reason behind its "ZTR" acronym. The equipment is zero-turn, making it easier to use. The zero-turn nature of the mower also allows it to produce a final product that simply looks more professional and turf-like than riding mowers without this feature would be able to produce. In addition to a zero-turn radius, the Dixon Speed ZTR comes with a number of other really great features for buyers.
Perhaps the most notable of these features all lie in the area of operator comfort and convenience. Dixon's riding mower comes with an operator control panel that allow for one-handed access to most of the mower's controls and settings, making it easier to learn the equipment and use it in everyday mowing. This is paired with a far more comfortable operator seat, which is designed to absorb equipment vibrations. It's a feature that comes standard with any Dixon mower, and it's something the company has worked hard to perfect over time.
A removable foot deck makes it easy to access most of the mower's moving parts. That's great news for homeowners determined to keep up with regular maintenance or even those looking to save money by performing their own repairs when required. Among riding mowers currently on the market, this easy access to pulleys and other mower features is unique and a welcome change of pace.
The mower's 30-inch cutting deck is actually very compact, and many buyers will view that as a benefit more than a drawback. Because of its very small size, the Speed ZTR 30 is absolutely perfect for use with smaller lawns and moderately sized open areas.
The Right Specs for the Job
A Briggs & Stratton Intek XRD engine powers the Dixon mower, propelling it forward with 15.5 horsepower. This engine benefits from a hydrostatic transmission that really makes mowing smoother and shifting easier. Because Dixon has paired even this smaller riding mower model with a 3-gallon fuel tank, virtually all homeowners are assured to enjoy one-tank mowing. Without starting and stopping to refuel, mowing will be that much quicker.
The mower's "Speed" label comes from its ability to travel forward at a maximum of 6.5 miles per hour, which is significantly faster than competing models of similar size. When put into reverse, Dixon's Speed ZTR 30 can travel at a maximum of 3 miles per hour. That speed is also a bit faster than competing riding models already on the market.
The cutting deck itself is in line with competing models, or perhaps slightly ahead of them. Despite its smaller, 30-inch diameter, the cutting deck is made from stamped metal and is therefore able to withstand a significant amount of debris or clogs before damage is done to the equipment. The mower's deck can be lowered to 1.5 inches for turf-quality mowing, or it can be raised as high as 4 inches for longer grass more natural-looking work.
The deck houses two blades, described by Dixon as being triple-action blades. They can mulch, capture clippings, or dispense them back into the lawn based on operator preference. Thanks to a wealth of mower accessories, including a clipping bag, this triple-action feature allows the mower to be versatile in every season.
Great Accessories for Dixon's Compact Riding Mower
Dixon offers a mower cover and a battery charger for its Speed ZTR models, as well as clipping bags that are designed to be easily washed out and used for several seasons in a row. These accessories further extend the utility of the mower and make it just a bit easier to maintain no matter the season or the storage environment.
DixonZTRParts.com Has the Mowers that Homeowners are Looking For
When it comes to a great selection of Dixon mowers, parts and accessories, DixonZTRParts.com fits the bill. The website offers an extensive collection of new Dixon mowers, all of the company's OEM accessories, and a vast number of OEM parts that are great for occasional repairs or regular maintenance throughout the year.