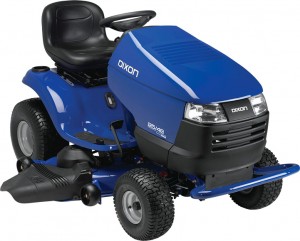 There are a number of features most homeowners look for when purchasing a lawn tractor. A smooth ride, good performance, rugged durability, and low maintenance are all among the most popular requests. For those looking to have all of these features rolled into one effective lawn tractor, they should look no further than the Dixon D25KH48. This compact, hard-working lawn tractor is among the best in the industry providing a well cut lawn, all of the aforementioned features and then some. 
In looking at the basic overview of the Dixon 25KH48, one will quickly notice this machine is built to go the distance. Powered by a powerful Kohler Courage V-Twin engine and driven by a Hydrostatic transmission with a pedal control options, there is not a lawn on the planet that the Dixon 25KH48 cannot handle. The deck on this machine is a stamped and vented deck system providing the optimum level of cutting and mulching to ensure every lawn is cut evenly and mulched just the same. The standard 25KH48 does come with a side discharge, however; a mulch kit/plate can be purchased at an additional cost as an accessory and installed as needed.
The Dixon also features a number of comforts such as their patented step-through, a comfort-grip steering wheel and a cup holder for an ice cold beverage to keep its operator refreshed while out on the lawn. With the power behind the Dixon 25KH48 partnered with all of the comfort features added to this machine, it is easy to see that the Dixon 25KH48 is both easy to operate and easy to maintain.
Some of the additional features the good folks at Dixon have built into their 25KH48 Series Lawn Tractor are a high back vinyl seat. This seat is easy to keep clean, but more importantly, it provides additional comfort and support while mowing larger lawns that take a few hours to cut. There is also a tube bumper along the front of the mower on the Dixon 25KH48. This bumper helps to protect both the mower and other objects around the lawn, garage or shed. The Dixon 25KH48 is gasoline powered and features both a Fuel Window and an Hour Meter to ensure the operator knows just how much fuel they have left in the tank as well as how many hours they have put on the mower for maintenance purposes.
The wide deck is engaged through an electronic clutch and can be engaged and disengaged on the fly. These features all ride atop four anti-scalp wheels that ensure a smooth ride each and every time the mower is used. As accessories for the Dixon 25KH48 Lawn Tractor, owners can also pick up a collector which will help the 25KH48 serve as a lawn vacuum. This attachment is great for the fall when the trees finally drop all of their leaves. With the mulching attachment and collector attachment both hooked up, it definitely beats having to rack a lawn full of leaves by hand.
Not only is the Dixon 25KH48 Lawn Tractor one of the best in the business, it is also very low maintenance. With its gasoline only fuel tank, there is no having to hassle with getting the right gasoline/oil mix for the engine. Also, many of the maintenance requirements for the Dixon 25KH48 can be done by a most homeowners who have a common tool set and a little know-how. For those maintenance issues that can't be tackled by most Do-it-Yourselfers or those who simply would rather not mess with it; there are a number of licensed specialists throughout the company who are certified to fix any issue one might experience with their Dixon 25KH48 Lawn Tractor.
Furthermore, when the situation comes to needing replacement parts, these specialized dealers have most Dixon parts on hand. These parts are custom made to fit just about any Dixon machine, including the Dixon 25KH48 Lawn Tractor. If for whatever reason one's Dixon specialist does not have the part they need, they can order it and generally have it sent overnight mail to their shop regardless of where in the country that shop may be.
Ultimately, there are a large number of lawn tractors on the market. For those looking for a well-built, solid piece of machinery for their next lawn tractor, they should look no further than the Dixon 25KH48 Lawn Tractor. With its powerful Kohler engine and pedal controlled transmission, and a wide array of comfort features, there is really no better option than the Dixon 25KH48 Lawn Tractor. In most instances, nothing beats climbing onto a Dixon 25KH48 and seeing for one's self just want it feels like to sit atop greatness. The ease in which one can get on and off of the 25KH48 along with knowing they have a machine that will give them an immaculate looking lawn with each and every cut is all one needs to understand why Dixon is among the best in the business.