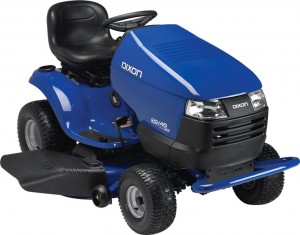 For the first time in the history of the Dixon Company, a line of lawn tractors has been introduced. Keeping in mind the fact that the riding mowers are ignored in the market, the company started production with the aim to produce a good quality product that is easy to use, yet sturdy enough to get the job done. Created with attention to the smallest detail, these mowers will provide quality service to users.
The Dixon D22H46 made its debut in the spring of 2010, with an effort to shake things up in the conventional riding mower category. The Garden Series Tractors offers lots of standard features, plenty of power and is a reliable piece of machinery available at a very affordable price. It is an honest, down to earth garden tractor, with a factory fitted sleeve hitch and an electric deck life, which makes securing attachments not a struggle anymore.
The mower provides a comfortable ride and makes short work out of difficult and stressful garden tasks. The unit is very maneuverable and the optional ground engaging attachments make cleaning up the yard an entertaining activity. The mower is ideally suited for mowing lawns of half an acre to three acres. This model is also very good if one plans to use it for snow throwing. The fully vented deck provides a good lift for the poorer lawns, and has the ability to remove grass evenly and with a great deal of speed to give a well-kept lawn. It is equipped with premium mulching blades for really good mulching and a mulch cover. The hi-lift blades allow for perfect bagging.
The D22KH46 comes fully packed with loads of features, like a hydrostatic pedal control transmission, cruise control and blade engagement with an electric push button. It also has comfort features, like the seating and steering wheel. The machine is ready to offer high quality performance with outstanding results. The mower provides loads of power considering the cost. It features a brand new operator's platform, a high power 22hp Kohler engine, an oil filter and a hefty 46 inch deck that is sufficient to get the job done quickly, while still offering nice tight turns; this means there is less uncut grass. The hydro foot control is great for first time buyers as it drives like a car and is easy to handle. Overall, the tractor provides a pleasant, smooth, quiet ride, yet with sufficient power to handle some rather difficult lawns.
The unit is also good if one wants to use it to snow blade or snow throw, as it is capable of handling all non-ground engaging activities. The tractor is heavy duty enough that it is capable of tackling hilly and difficult lawns. If cared for properly, the tractor has the potential of giving many years of quality service. One should, however, realize the limitations of the tractor. It is not designed to be used for ground engaging paraphernalia like a tiller, disk or plow. It is a medium sized mower designed to do a good job of mowing lawns and is a good value for the money. Specifications of the mower are as follows:
• 22 HP V-Twin Kohler engine
• Three gallon fuel tank
• Hydrostatic foot pedal
• Sixteen inch turning radius
• Two cutting blades
• Cutting height 1.5 – 4 inches
• Collector available as an accessory
• Reverse operating system (ROS)
• Through frame with a wide step
• Front-end tube bumper
• Comfort package
• Cast iron front axle
• Headlights and cruise control
Dixon Manufacturing Company made history when it bought the rights to a brand new system of Zero Turning Radius (ZTR) cutting circles and made affordable ZTR lawnmowers for public use instead of commercial; this allowed the operator to spin the mower on its own dimensions. This maneuverability made it possible to cut very close to tight spots, which otherwise would have had to be cut by hand.
Image Source: Dixon ZTR Parts