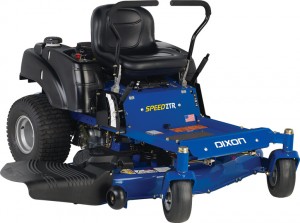 Dixon offers six different mowers in its Dixon Speed ZTR series. The Speed ZTR 30, 42, 42SE 46, 48SE and 54. Each of these mowers are well-designed and offer the same powerful sturdy construction and performance. The Dixon SpeedZTR series features a zero turn transaxle that takes the work out of mowing. The Dixon ride on mower featuring a zero turn transaxle became famous in 1974 after the company began selling the first ever zero-turn transaxle ride on mower. 
Since 1974, the mower has become extremely popular because of its zero-turn transaxle. The zero-turn transmissions are on each of the mowers in the Dixon SpeedZTR series. The zero-turn transmissions allow for easy maneuverability. With this feature, operators will be able to mow grass in tight places such around trees and shrubs without much effort.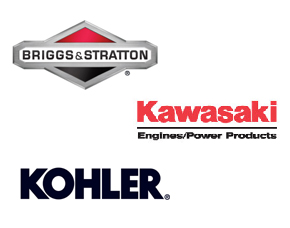 The Dixon SpeedZTR series of residential mowers are manufactured with either a Briggs & Stratton, Kawasaki, or Kohler engine. Operators will never have to worry about their hydraulic transmission assemblies on any of these mowers. The transmissions do not require maintenance or routine service. The mowers in this series are designed to last and are extremely durable and reliable.
Mowing is easy with any of the Dixon SpeedZTR mowers. Each mower in this series offers different cutting features, including but not limited to side ejection and mulching. The cutting ranges on the mowers in this series range from 30 to 54 inches.
The series also features a variety of comfortable built-in features such as hydraulic dampeners that can be controlled at a touch of button and a conveniently placed control panel that offers easy access to the control panel. In addition, each of the mowers also includes a removable foot pan that makes clean up easy and allows for free access to the spindles and belts.
All of these mowers include many of the same features and except for a few differences like the engine and deck options, operators will find that mowers in the SpeedZTR series will perform like a breeze. These mowers work quickly and make mowing easy.
Dixon SpeedZTR 30
This ride-on mower is extra compact and perfect for smaller areas and fenced-in yards. Even though it is smaller in size, this mower is still extremely powerful and performs just as well as the larger models. The mower is constructed with an extra durable steel frame and features a blade that is designed to handle several things such as mulching and bagging.
Dixon SpeedZTR 42
With its zero-maneuverability, this mower makes mowing the lawn enjoyable. This mower works fast and is designed to cut grass around trees and shrubs a breeze. In addition to all of the enhanced features that make this ride on mower comfortable and easy to use, this mower offers three different deck options to choose from.
Dixon SpeedZTR 42 SE
Similar to the 42, the 42 SE offers the same powerful features as all the other mowers in the SpeedZTR series and also includes three different deck options and zero-maneuverability like the 42.
Dixon SpeedZTR 46
This mower, like the 42 and 42SE, also offers zero-turn maneuverability and three different deck designs to choose from.
Dixon SpeedZTR 48SE
This affordable mower does not offer three different deck designs to choose from, but offers zero-maneuverability just like the other models. .
Dixon SpeedZTR 54
This ride on mower offers the same dependability as the other models and features such as zero-maneuverability, control lever dampeners and a convenient control panel, a removable foot pan for easy clean up and access to belts and spindles as do all the other ride on mowers in this series.
In order to find genuine Dixon mower parts, which were made by the manufacturer, purchase them from a trusted dealer, or by going online at www.DixonZTRparts.com.