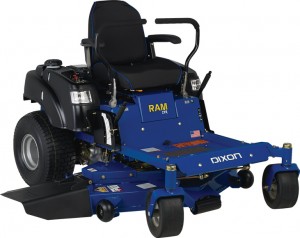 The Dixon ZTR Ram Series mower is one of the most powerful residential ride-on mowers available on the market. Cutting through overgrown and thick grass with ease, this ride-on mower makes mowing fun and easy to do. The transmission and engine of this powerful mower have been developed by some of the top manufacturers in the world. The Dixon ZTR Ram Series mower features a top-of-the-line, professional,  high-capacity V-twin series engine manufactured by Briggs & Stratton. The Dixon ZTR Ram Series features a hydrostatic ZT2800 transmission manufactured by Hydro-Gear. The transmission is completely serviceable. 
This residential mower is not only powerful, it is reliable. It can handle a wide-variety of mowing conditions, including but not limited to thick, overgrown and difficult to cut grass. The mower is extremely comfortable to ride on and can be operated for longer periods of time holding 3.5 gallons of fuel. Operators who use this mower don't feel like they are mowing the yard because the Dixon Ram 48 ZT has been designed for extra-riding comfort. Equipped with extra comfortable thick cushions, the mower also features a conveniently positioned control panel, foam-padded steering levels and hydraulics dampeners that allow for touch-of-the-button operation. All of these features add to the heightened level of comfort for this powerful residential mower.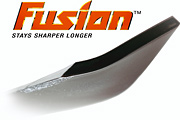 In addition to its powerful engine and all of its comfort features, the Dixon ZTR Ram Series offers a deep tri-force cutting deck and an enhanced blade-cutting action with its Fusion™ Cutting Blades. Blades are the one component that should never be overlooked by consumers. The blades on the Dixon Ram 48 ZT offer exceptional mowing power because they have been treated with a unique tungsten-carbide treatment which helps them stay shaper and last longer than traditional blades. These blades on the Dixon ZTR Ram Series are so durable they stay 200% sharper than other blades. The tungsten-carbide treatment also increases the overall blade life by 100%. With an increased level of sharpness, durability and dependability, consumers will enjoy knowing that they will not need to purchase replacement blades for this mower for a very long time.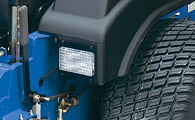 In addition to all of the other exceptional built-in features, operators will appreciate the dual headlights that are installed on this mower as well. Now, operators don't have to wait for the sun to come out to get the job done. The headlights make mowing easy in low light conditions or days when visibility is reduced.
For consumers looking for the perfect residential mower, the Dixon ZTR Ram Series is the ideal ride-on mower offering a full range of features and maneuverability. The mower is well-designed, durable, dependable, and comfortable. To see the latest specials and financing options, make sure to visit a Dixon dealer near you. You can also purchase a variety of genuine Dixon Ram parts online at www.DixonZTRparts.com.