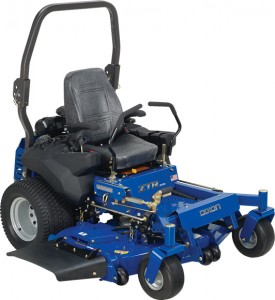 Over the last decade, one of the biggest shifts in residential lawn care came in the form of the commercial riding mower. With more and more people turning away from lawn services and performing their own maintenance, professional grade mowers have become very popular among residential homeowners. However, many homeowners have trouble justifying spending thousands of dollars on a riding mower. For many, the lawn tool must be more like a lawn tractor to convince themselves, and their significant other, of such a need. Dixon has recognized this demand and met the challenge directly. 
The Dixon ZTR mower offers the commercial and residential customer a full line of attachments to fit their mower. These attachments range from a mower cover to keep your mower out of the elements to a grass mulch kit to produce crisp lines over the course of a lawn.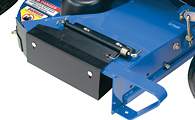 Mulch Kit
For those who desire perfectly striped lawns, he or she needs a Dixon ZTR mulch kit. The Dixon mulch kit cuts the grass into fine filaments that fall deep into the ground. Because the grass has been cut into fine pieces, it does not have the ability to lie on the top of the trimmed grass. The Dixon ZTR mulch kit allows for the homeowner to avoid wasted time emptying grass catchers and more time mowing their lawn.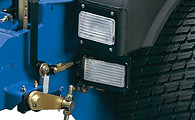 Trim Light Kit
Even in the height of sunlight hours, many areas that are in need of trimming may be shaded or void of light. The trim light kit mounts just below the headlights and gives the operator full visibility around stone walls, sidewalks, mulch beds, and any other areas the homeowner may need to trim. Don't waste time and risk back problems using a string trimmer when you can get the majority of your trimming needs completed by purchasing a Dixon ZTR trim light kit.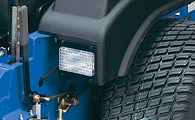 Headlight Kit
Not everyone can use the peak daylight hours mowing their yard. For those who work hard and late, there may not always be enough sunlight left for mowing. However, by purchasing a Dixon headlight kit you can turn anytime of the day into the perfect time for mowing your grass. Whether you are working late at the office or cutting grass in the late autumn months, the ZTR headlight kit can make anytime a great time to manicure your lawn.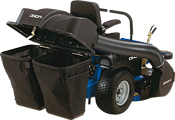 Grass Catcher
Even though Dixon offers a mulching kit, some grass may be so thick that mulching may prevent proper growth. For this reason, Dixon has developed both a double and triple grass catcher. The double grass catcher attachment is perfect for small yards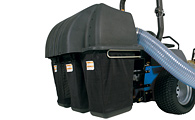 while the triple grass catcher kit may be in order for yards over an acre or more. For perfect diamond patterns and in-and-out fades, the grass catching attachment may be in order.
Storage Attachments
When late autumn turns to early winter, it becomes time to store your Dixon ZTR mower. It is important that your mower is properly stored and a great idea to purchase a mower cover. The mower cover keeps your

mower covered from moisture and free of dust. Excessive dust and moisture in the air can cause corrosion and poor electric conductivity when the mower is stored for extended periods of time. Another great attachment for long term storage is the battery manager. The battery manager ensures the battery stays charged by utilizing a trickle style current keeping the battery warm and ready to go.
Purchasing Options
All of the Dixon ZTR attachments and their replacement parts are available to purchase through your local Dixon dealer. You can even purchase Dixon parts online, using www.DixonZTRparts.com. For more information on the availability of certain Dixon attachments for your outdoor power equipment, please contact us at (888) 375-4455.